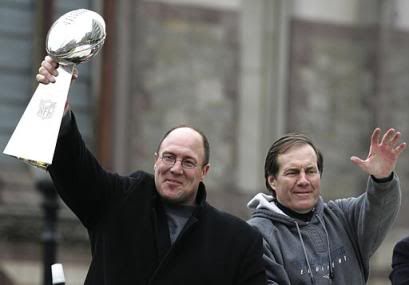 Well, the Matt Millen era
is over in Detroit
. I know the Lions have had a
long run of success lately
, with plenty of
highlights
and
glorious moments
to remember, but sometimes,
you just have to make a change
. Especially when you're 0-3 this year and 31-84 since your General Manager took over.
But while Detroit has been the symbol of NFL front-office futility the past few years, the Patriots have arguably been the best. Whether it be in draft day selections, offseason trades or free agent acquisitions, the Pats, specifically the pair of Vice President of Player Personnel Scott Pioli and Head Coach Bill Belichick, have consistently shown their ability to outwit the opposition. So as Detroit makes the transition to becoming a smart, successful football team, we celebrate the accomplishments of one that already has.
I present to you, the top five moves of the Belichick era (2000-present):
5. The Corey Dillon trade
Heading into the 2004 season, the Patriots were defending Super Bowl champions, albeit with one glaring weakness. The running game, led by Antowain Smith's paltry 642 yards and 3.5 yards-per-carry average, was anemic. Something had to be done, and as the Patriots brain trust wondered, three-time Pro Bowl
Corey Dillon
fumed in Cincinnati, wanting out after being replaced as the starting running back.
On April 19, 2004, the match made in heaven was consummated, as the Patriots shipped a second-round pick to the Bengals for a seemingly aging running back, who was rumored to be a bad teammate.
Dillon
ended up running for a team-record 1,635 yards and 12 touchdowns, while becoming a model teammate and leading New England to its third Super Bowl title in four years. Cincinnati has made one playoff appearance since then.
4. The 2003 offseason
Just like in 2004, the Patriots headed into the 2003 season with a key area to address. In 2002, New England failed to defend its Super Bowl title by going 9-7 with a defense that ranked 23rd in points allowed and second-to-last against the run. In his first full season, Tom Brady led the league with 28 touchdown passes, but the Patriots were consistently derailed by a flat defense that frequently allowed leads to slip away by letting the opposition run unimpeded.
Belichick recognized the problem immediately, and the Patriots took after free agency with an aggressive approach that beat every team in the league to marquee players. In one swoop, the Patriots signed San Diego castoff
Rodney Harrison
, Chicago free agent
Rosevelt Colvin
, former Denver Bronco cornerback Tyrone Poole, and mountainous defensive tackle
Ted Washington
.
The result?
Harrison
was second in tackles, won two straight Super Bowls and has since become a defensive captain and spiritual leader for New England,
Colvin
won a Super Bowl and became New England's best pass rusher in 2005 and 2006,
Poole
tied for the team lead in interceptions and
Washington
anchored a defense that led the league in fewest points allowed and was fourth in run defense. Instantly, the team was transformed back into a champion.
3. 2007 offseason
Again, the Patriots had a problem. Again, they fixed it. Despite having a receiving corps of rejects and castoffs from other teams, Tom Brady guided New England to within a few minutes of a fourth Super Bowl in six years.
The Pats rewarded their leader by focusing on the offense in the offseason. They acquired
Wes Welker
from Miami for second- and seventh-round picks, free agent speedster
Donte Stallworth
, released by the Eagles, and, in the biggest coup, disgruntled receiver
Randy Moss
from Oakland for a measly fourth-round draft pick.
The result? The best offense (statistically, anyway) in football history.
Wes Welker
grabbed a franchise-record 116 receptions,
Stallworth
became a deadly deep threat, and
Randy Moss
set a new NFL record with 23 touchdown catches while
setting a whole new image for himself
. Tom Brady threw for a record 50 touchdown passes en route to the MVP award, and the Patriots were only an
incredible combination of luck and mental collapse
from capping off a perfect 19-0 season.
Coming next: The top two spots on the list.